My mom is hopefully re-doing our bathroom soon. She is a muralist (more like was: her 100% effort is now in her business
The Fig Tree..
.which you can find on Etsy. which you should probably check out and buy things because everything she does is fabulous and made with love)
So during her muralist phase she decided to use our house as her canvas. (Minus my room because I insisted on decorating it myself.) But the downstairs nook bathroom became a jungle. Like an actual green, animal, jungle bathroom. Unfortunately its' seen its day, and is ready for a little face-lift.
There are blue floor and sink tiles which will be staying. She emailed asking me for my opinion. And these were what I came up with keeping in mind the navy blue.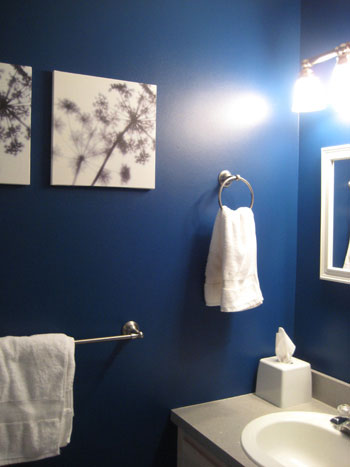 an accent blue wall, accompanied with whites, grays and calm shades.
A gray and silver wallpaper, with a fun, graphic mirror.
Gold and blues are the epitome of royalty and luxe. It's so subtle, yet so effective.