And so begins the countdown of days until I hop in the car at an ungodly hour to make my way to the city of Austin. 9 days to go! Is it sad one of the things I'm most concerned about during this moving process is finding the closest library to where I'll be living?!
I was considering
BookSwim
, but for $29.99, which is how much a casual membership costs, I would rather buy 1 or 2 books a month from B&N. Or a thrift shop, which is where I actually find most of my good paperbacks.
**
I'm also collecting visuals of bedrooms I love. I am definitely using a bench or long crate at the end of my bed. Hopefully for storage and also I think it just looks amazing. I always think of Rachel Zoe's bedroom when I have my perfect bedroom in my mind. Minus the Missoni throws which are luxurious, but just not my taste.
See, with the beautiful stack of books at the end of the bed.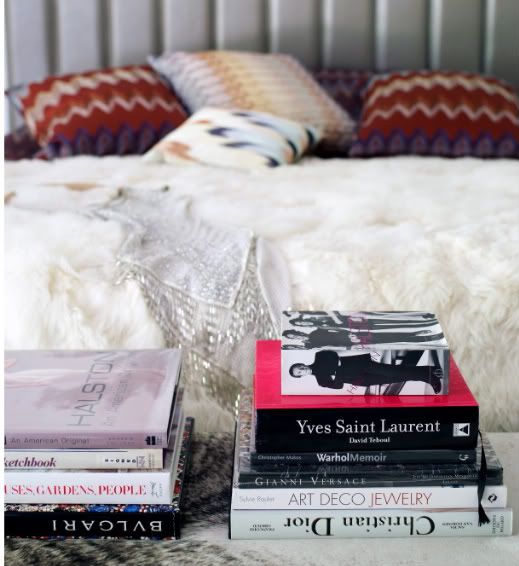 I also love, love the look of the zebra rug. I know I will have one in the living room. I'm going to try really hard to balance out any feminine touches with some masculinity as well. My boyfriend will be joining me in September when baseball finishes and I don't think he'd appreciate coming home to a room full of girly, fluffy shit. Not that that's my taste...I'm just saying.