Every time I come back home, me and my mom carve out a special "girls day" in the city. By the city, I mean Fillmore Street. We adore everything about Fillmore. We discovered this one day a few years ago when we got tired of all the hustle and bustle of Union Square and Market Street. So we ventured off to find the
Crossroads Consignment Store
we had heard so many friends rave about for the great designer finds at ridiculously low prices. And we never looked back.
This district is nestled between Japantown and Pacific Heights with everything ranging from vegan cafes to ultra chic boutiques. A ethnically diverse section of town, everyone can find something to love on Fillmore. (It even boasts its own publication)
On this visit, our first stop was of course Crossroads. After scouring the racks of various duds I picked up a pair of Antik Demin Jeans, Navy Blue BCBG blazer, Sparkle and Fade tank, Kensie Girl cream summer dress and a miscelaneous blue dress(which after trying on we found to be a shirt on me and my 5' 10" frame) Total= $72.62 I wasn't too upset for getting 5 pieces for 1/5th of the price those Antik's would have cost me.
Let's not forget my love of
Jonanthan Adler
and his completely lewd and outrageous design elements. And found some adorable place cards that made me want to throw a Mad Hatter's Tea Party.
$28 each. Bird, Bull, Fish, Dachshund
Design Within Reach
prides itself on modernism and the clean line mentality. I always feel very Ikea when I enter this store.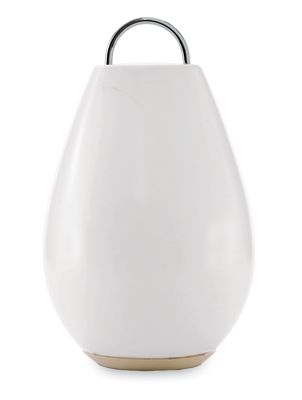 Luau Portable Lamp $198 (this lamp isn't
quite
within MY design reach...not with that price tag)
For lunch we decided on, The Grove, whose healthy range of salads, comfort food and sweet treats would explain why it was packed. Luckily we found a nice spot outside and I enjoyed a fresh tomato basil soup, while mom finished off a just out of the oven chicken pot pie and side salad. Oh, and add a glass of Pigno Grigio to that order.
A few antique and vintage shops later, we'd just about made our rounds. I was sad to put back a tropical print navy and white Escada tank with gold buttons down the front that just screamed CRUISE! but I realized I would have only worn it for that certain occassion and decided against it. We were also sad to see one of our favorite shops, Shabby Chic, absent from the line up of store fronts.
all in all, our stroll down Fillmore was a beautiful one, not to mention the weather was gorgeous!
Now I get to go back into SF to pick the boyfriend up from his boy's trip in Vegas (Thank God) and show him the ropes of Northern California.